Clarin 3 seater Sofabed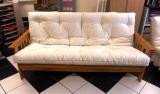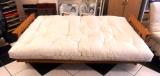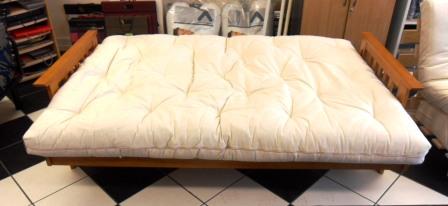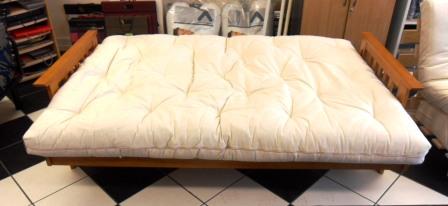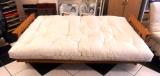 €780.00 with Removable Cotton Drill Cover
This is a very popular 3 seater Futon / Sofabed. The Clarin Futon is combined with our premium quality Classic Futon mattress, which is manufactured in Denmark By Innovation Living. This mattress with 3 layers of carted cotton on each side of a 5cm freon free polyether foam core, is a pure natural mattress, it should be aired and beaten regularly to prevent the cotton from compressing. ( Fixed cover 100% Natural Brushed Cotton).
The conversion from sofa to bed is operated from the front, using a clic-clac hinge mechanism.
( takes about 10 seconds)
Hardwood Medium Oak with Arms ( 6ft7" lenght with arms )
Classic Futon Mattress 140 x 200 -
Detachable Cotton Drill Cover.
for further information please email : info@celticfutonstore.ie or call 091 / 762334 with any further questions.